June 13, 2020

Mohamed Alhaj

7
Written By: Elaff Alfadil, Energy Engineer, Solarman Co. Ltd., Sudan
Access to energy services is crucial for development, especially electricity, given the central role it plays-for its versatility and variety of uses- in modern societies. The International Energy Agency provides annually updated databases for universal energy access on national levels, the rural and urban access rates within the countries.
What is energy access?
There is no universally accepted definition for energy access, but the most common definition is "the situation of a household having reliable and affordable access to clean cooking facilities and to a minimum level of electricity consumption which is increasing over time", IEA. As we notice this definition is limited to household access to energy and doesn't include other sectors like the commercial and services sector access to energy like street lighting, schools, health facilities, and productive sectors like industry and agriculture.
To provide a clearer picture on access to modern energy and to have indicators that include not only non-residential sectors but also the quality of supply (availability, affordability, convenience, and reliability) the World Bank and other international agencies proposed a multi-tier framework to measure energy access which includes indicators covering all the above factors. However, data constraints arise with such frameworks as it is really challenging, difficult, and a resource extensive exercise to attain the real data. The world energy outlook statistics focus on two elements measured separately: household access to electricity and household access to clean cooking fuel.
How is energy access measured?
The easiest way of measuring access is estimating the number of households that have access to electrical supply on the one hand, and those that use solid biomass and traditional means of cooking on the other by examining data from governmental agencies, multilateral development banks or international statistics. This process serves as a benchmark for measuring sustainable development goal SDG7: "Ensure access to affordable, reliable, sustainable and modern energy for all". In terms of electricity access, the latest global statistics indicate that there are around 789 million people without access to electricity of which the majority (548 million people) reside in Africa.
In Sudan, around 40% of the population still doesn't have access to electricity, the urban electrification rate is 84%, while rural electrification rate is 47% with rural population accounting for 65% of the total population.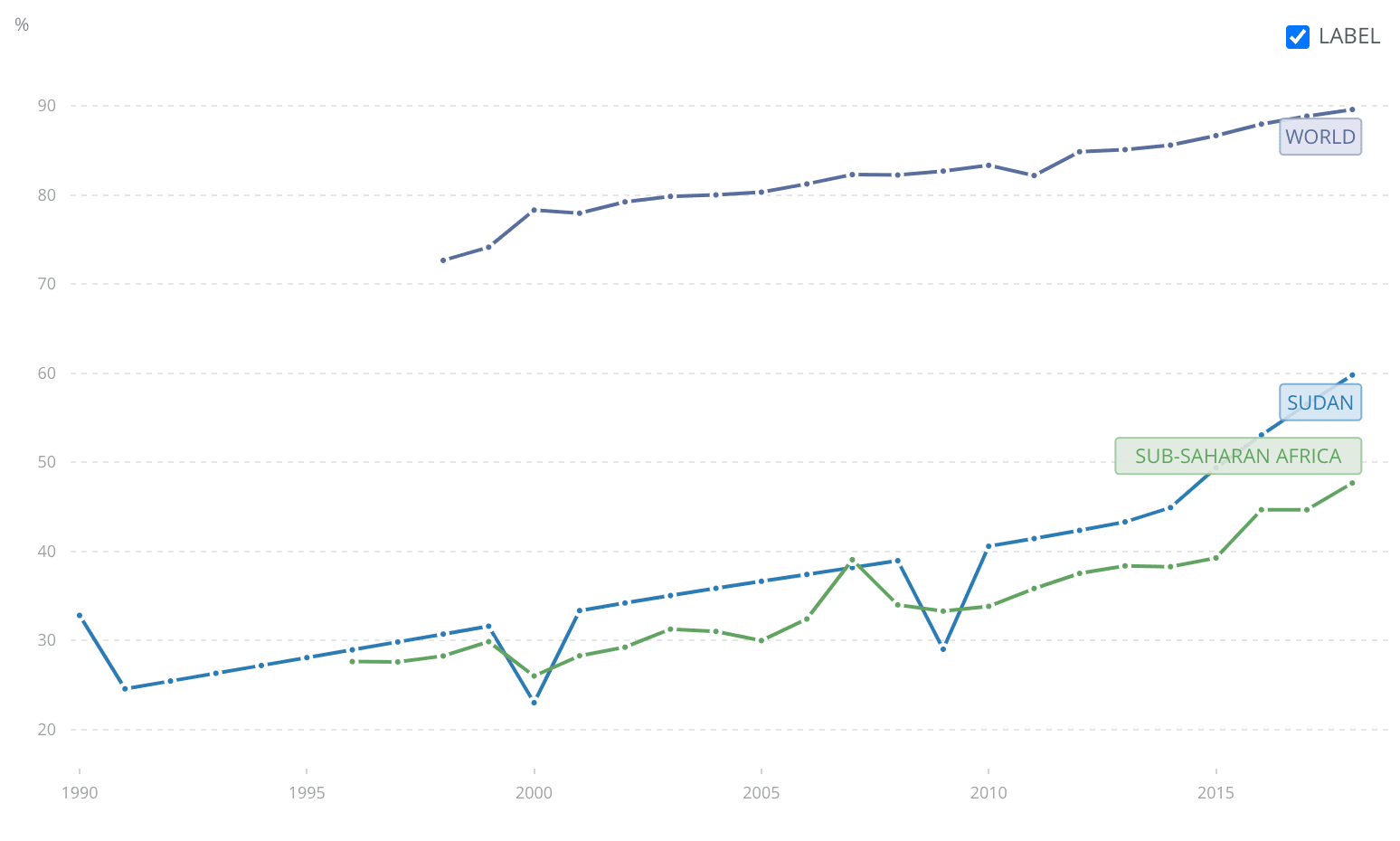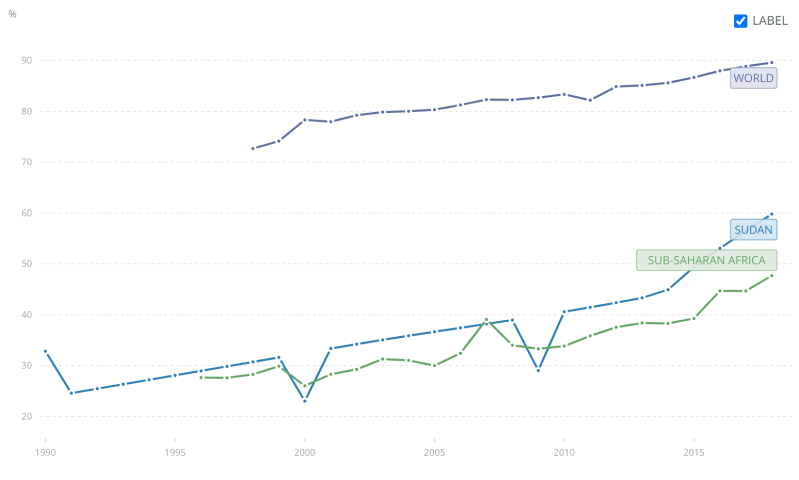 Comparing to sub-Saharan Africa, Sudan has made notable progress in electrification in the last 10 years, as shown in Figure 1, but still, around 40% of the population has no access to electricity. Huge efforts need to be done to achieve 100% energy access, considering that population growth can outpace electrification efforts.
Electrification options: Electrification can be provided through grid extension, mini or micro grids, or stand-alone energy systems.
Grid extension: where large centralized power plants generate power and this power transmitted through transmission systems and distribution networks to the loads. Extending the existing grids requires new power generation plants to be built and investments in transmission and distribution systems is also needed. Grid extension is an economically viable option for areas with large populations and high-density loads. This option, however, requires huge financial capital and it is usually in the hands of governments and public companies. In case of sparse population or complex terrains, extending the grid can be less attractive and other electrification options must be considered.
Developing mini-grids or micro-grids for isolated loads with local resources of generation (like solar, wind, small hydro) is one of the options. Mini-grids can be built by private companies as long as there is adequate load size (residential, commercial and industrial), an attractive return on investment, and an enabling business environment.
Stand-alone systems which typically serve single households are best suited to serve scattered populations. This market is generally dominated by solar PV systems and diesel generators. Solar PV systems come with the benefit that they are modular and can be scaled to fit the user needs. They are usually distributed by private companies, but the main barrier to their utilization is their relatively high capital cost.
The investment share in grid extension, mini-grids and micro-grids, or solar home systems vary significantly from country to country. In Sudan, the national grid covers only a small portion of the country, and there are diesel-powered isolated networks in states that are not reached by the national grid. With the technological advancement and the falling prices of PV panels, there is a huge market opportunity for solar home systems and they can play a big role in reaching electrification goals in the country.
Facilitating and enabling the role of private sector and deployment of innovative financing mechanisms and business models for stand-alone systems, taking advantage of the rich solar resource available in the country, can make a huge change and offer a timely solution for a large portion of the population, and is a more feasible option than grid extension.
Some neighboring sub-Saharan Africa countries have made an incredible progress in a very short time through the electrification of rural areas by innovative business models. Kenya, as an example, was one of the first countries to deploy the Solar-Pay-As-You-Go business model, which had a significant impact in increasing energy access. The percentage of people with access to power increased from 36% in 2014 to 75% in 2018; the highest electrification rate in East Africa.
This is not meant to downplay the role of grid extension as cities and industrial activities remain the highest energy consuming segments. However, implementing diversified energy access options is essential and will enable socioeconomic development.
References:
[1] Hafner, Manfred, Tagliapietra, Simone, de Strasser, Lucia, "Energy in Africa Challenges and Opportunities". (2018). Springer International Publishing. DOI: 10.1007/978-3-319-92219-5.
[2] World Bank, Sustainable Energy for All ( SE4ALL ) database from the SE4ALL Global Tracking Framework led jointly by the World Bank, International Energy Agency, and the Energy Sector Management Assistance Program.
[3] https://energypedia.info/wiki/Sudan_Energy_Situation.
[4] https://trackingsdg7.esmap.org/time?country=Sudan.
[5] IEA, IRENA, UNSD, World Bank, WHO. 2020. Tracking SDG 7: The Energy Progress Report. World Bank, Washington DC